Real-time visibility of schedules and workload
Stafiz offers you a complete view of your employees' schedules
Simplified profile searches
Enter your needs: skills, experience, functions, dates: Stafiz automatically indicates the profiles and ranks them according to their suitability
Complete schedules
Taking into account all activities in the schedules: customer projects, internal projects, absences in the schedules
Visibility for managers and employees that allows :
to better manage the workload of the teams
offer employees more visibility on their planning
to collaborate more easily on projects with interns and freelancers
set time targets for tasks and projects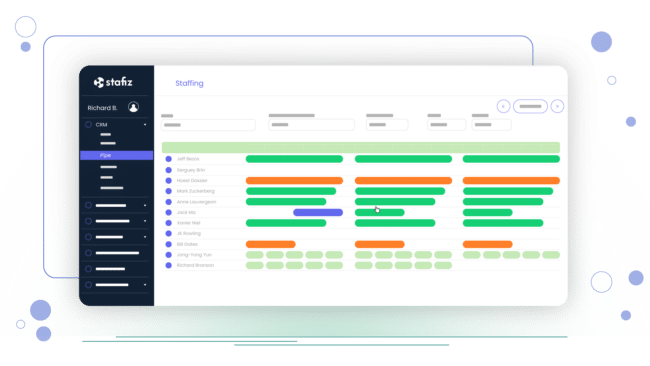 Improve load management
Increase efficiency and improve performance through improved load management
Identification of gaps between planned load and capacity
Visibility over time of the overload and underload of employees
Update of remaining work on projects
Notifications in case of time overrun on a project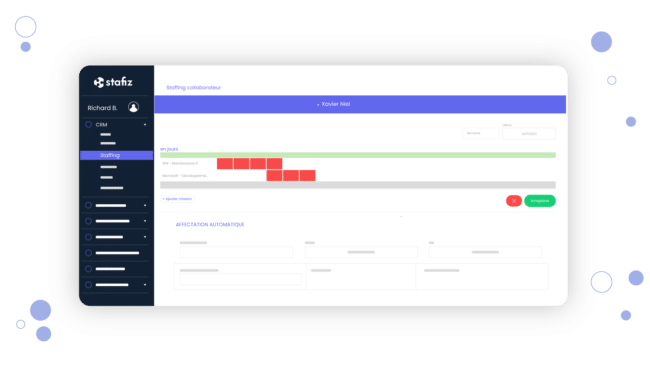 Simplify the search and positioning of profiles
Look for the right profiles among your employees, your subcontractors and your candidate pool
Searches based on skills, experience, preferences and availability
Positioning of profiles on customer needs
Follow-up of the selection of profiles until the signature
Creation of the associated project and monitoring of the activity until the end of the contract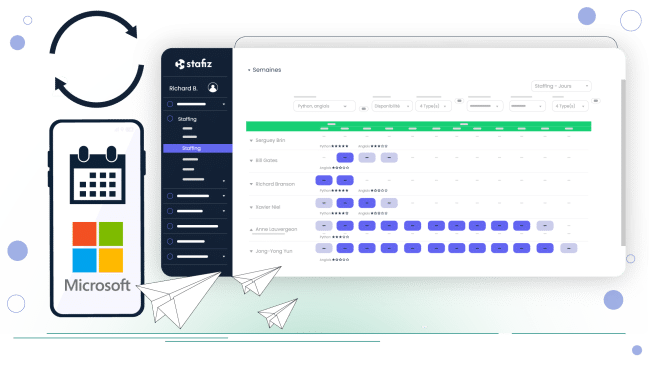 Reasons to use Stafiz to manage your resource planning

Visibility
Complete, centralized visibility of employee availability and workload

Simplicity
Automatically assign profiles and adjust schedules with one click

Reporting
Anticipate workload issues and improve your utilization rate
Our customers speak better than we do

R. Beziz
Co-Founder
From YouMeO
"Managing our business has become so much easier since we started using Stafiz. It really has been a game changer!"

E. Stievenart
Associate Director
At KiMSO Consulting
"We highly recommend Stafiz: since the creation of our consulting company, we had tried multiple Excel files. Today,all our data is centralised in Stafiz, and we receive our dashboards in real time."

I. Lalet
Development and Support Manager
At Colorado Consulting
"Before using Stafiz, we were not able to improve our rates of resource planning. Thanks to Stafiz, we are managing our capacity much better and have improved our margins. Stafiz has really improved our performance.