Back to work after COVID-19: what managers should do?
Not classified
Revitalising prospects
Preparing for an altered back-to-work season, possibly in different phases
Gain visibility on the teams' schedule
The return to work in 2020, and especially the return to work post-COVID-19, will be unprecedented. Consulting and professional services companies will be exposed to an unprecedented economic context, which is particularly difficult to anticipate and tame. The practical conditions for this return to work will be particularly challenging, with several months of work at home and activities interrupted since March, but also the persistent impossibility of finding oneself "as before": work at home may be continued for health reasons, team meetings in the office and with clients on site will be durably hindered... 
There is no "one-size-fits-all" solution for this back-to-work season, rather a mosaic of situations and responses. Back to work will require creativity, flexibility, the ability to step back and question oneself in the face of legal, logistical, health and economic concerns. This is likely to call for a radical transformation of working methods, relationships between employees, but also of the tools used on a daily basis.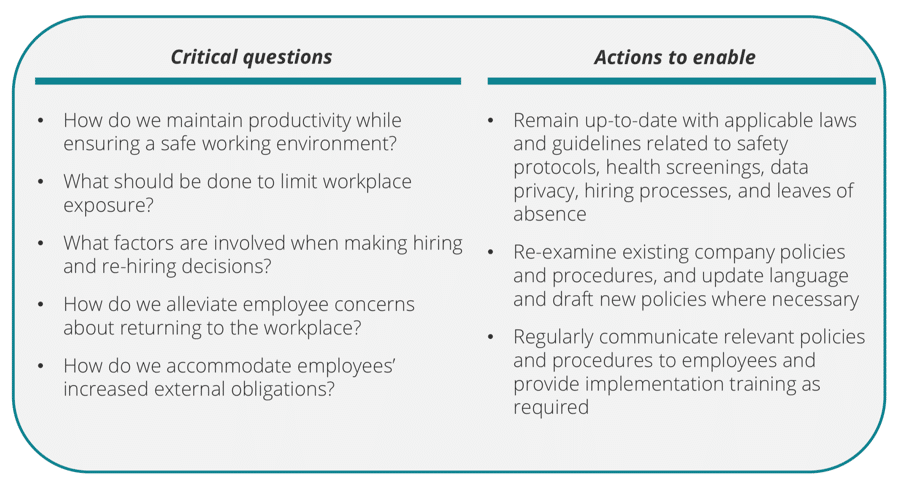 Indeed, in addition to monitoring and compliance with health safety instructions, new elements must be taken into account to return to work safely and strategically.
Revitalizing prospects
First of all, because the start of the new working year in 2020 is still a return to work, it is obvious that we need to revive prospects and revitalize customer prospects. It's a matter of making yourself indispensable in their back-to-work period and never leaving their perimeter: you have to stay in the prospect's head so that they can't forget you.
Different techniques exist and are implemented in all areas of the industry. The distribution of a newsletter to your target audience, attaching to it elements demonstrating your expertise, your experiences and the real added value of your service, regular activity on social networks and other media, regular creation of quality and relevant content etc. are so many examples of techniques used and usable.
However, the post-COVID-19 situation remains unprecedented and requires special attention. Consulting and professional services companies will not be able to meet clients as easily as before or participate in face-to-face networking events in the current situation.
Preparing for an altered back-to-work season, possibly in different phases
            After several months of quarantine, containment and economic slowdown, the return to work in 2020 presents challenges unimaginable a year ago. In this still unpredictable and risky context, companies will have to be flexible. 
There will still be work at home and less travel possible: few customer sites, few office team meetings, many employees still at home (with all the related difficulties that this situation entails)...
In the first instance, clearly informing employees about safety instructions and new procedures is a priority in order to comply with the law but also to guarantee the safety of employees, potential visitors and customers. It also helps to allay minds and fears about returning to work face-to-face. It is a question of protecting the structures against real risks as well as impressions and doubts.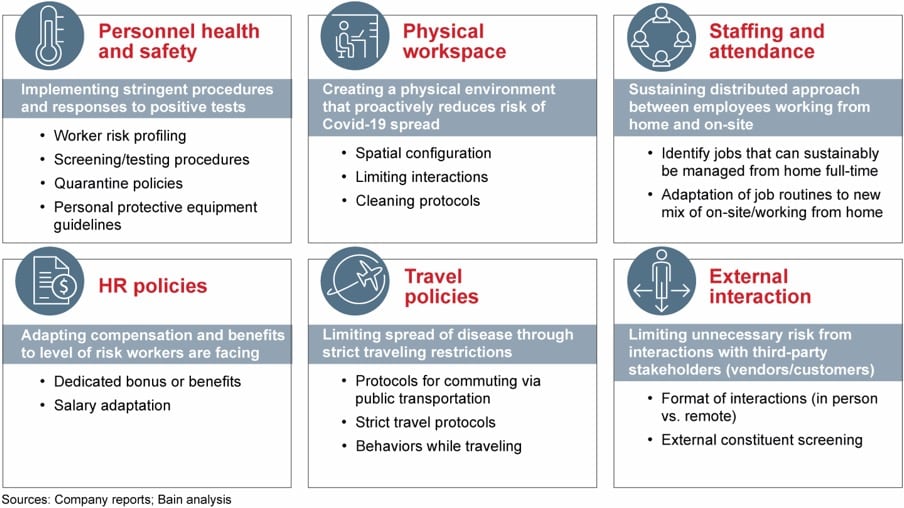 Links to the official guidelines of the European Union and the United Kingdom: 
https://www.ecdc.europa.eu/en/COVID-19/national-sources
https://www.ecdc.europa.eu/en/covid-19/facts/infographics
https://ec.europa.eu/info/live-work-travel-eu/health/coronavirus-response_en
https://oshwiki.eu/wiki/COVID-19:_guidance_for_the_workplace
Specific to the UK: https://www.lewissilkin.com/en/insights/covid19-establishing-a-return-to-work-plan-health-and-safety-considerations
Secondly, if it is feasible for your company, provide the option of flexibility, staying at home and/or going back to the office, to employees, including gradual flexibility, by phase. For example, more than 80% of employees in organizations such as Nationwide and Barclays work at home and are looking to become more efficient despite this particular configuration. 
As a result, companies need to transform themselves alongside this flexibility and learn to manage a new division of labor and absence management in a more comprehensive way that is adapted to the lack of face-to-face interactions.
Thirdly, consulting and professional services firms will benefit from considering and listening to the various concerns and possible feedback on return strategies. Stay tuned to all the players involved to build together the best possible working environment by connecting leadership and employees in this unprecedented context for everyone.
Gain visibility on the teams' schedule
A post-COVID-19 re-entry is also an opportunity for companies to take advantage of these troubled times to convert them into an optimization phase in order to maximize their performance. Thus, the aim is to gain clarity and visibility on team management, planning, load tracking and resource management. 
Many questions arise: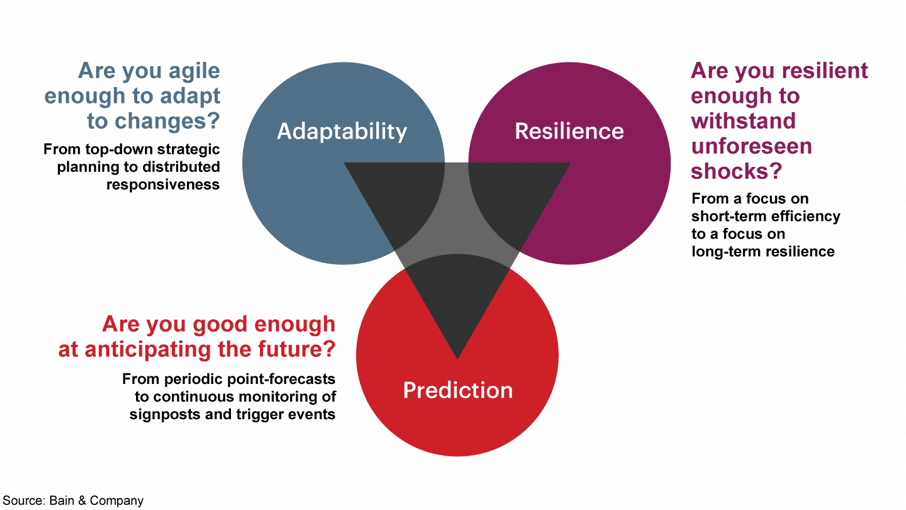 Consulting and professional services firms have learned that it is necessary to equip themselves with tools that are flexible and efficient enough to support effective communication between teams, even when they are in different locations, and to participate in an intelligent distribution of workloads according to individual and technical capabilities.
            Such tools make it possible to clearly visualize which are the priority and essential tasks for the new working year 2020. 
resource planning at work for optimized performance
Working remotely has accentuated the need for companies to equip themselves with centralized exchange and communication platforms dealing with the progress of various projects but also with the well-being of the teams and their availability. Management needs to have a better visibility on the workload of its teams: who is available, when, with which skill(s)... resource planning has become more flexible in line with the image of the employees themselves: the LSE Business Review notes an increase in the willingness to collaborate, to be flexible and quick to adapt. 
Thus, the solution is located in a centralized, tailor-made space that connects employees and reports live on their evolution. This platform should enable the project to be managed as a whole, to observe the progress of the project and the overall workload of the teams.
Connecting and exchanging efficiently
             With the inevitable dispersal of the workforce in the back-to-work period, a tailor-made overview, based on explicit and relevant data, is fundamental to monitor the performance and commitment of teams in this troubled context. A sharp understanding of the various activities allows for an appropriate positioning and organization of the tasks in the schedule over the long and short term. On the other hand, identifying gaps in the schedules allows for their optimization.
Finally, employees must be able to report on a daily basis on their performance as well as on each of their difficulties; and this in detail and with attentive ears.  
Consulting and professional services companies are particularly concerned by these issues. Indeed, their work and exchange spaces can extend from the office to the employee's home, but also, and above all, to the client's premises. This delicate and frequent geographical flexibility leads to distancing and multiplies communication difficulties. Reporting on performance, clearly explaining one's schedule, working in a team, etc. become much more complex in these areas and require an urgent response.
Flexibility put to the test by COVID-19 
A crisis, whether social or individual, like COVID-19, has a direct impact on resource planning and work practices. The responsiveness of the structures is decisive in order to deal with it effectively, quickly and appropriately, but also in order to learn from each of these difficulties as of the start of the 2020 academic year.
Consulting and professional services firms must invest in tools that enable and facilitate working from home and virtual collaboration between their employees. 
These still unusual reflexes will require a great deal of flexibility from companies and individuals. It is a question of completely redesigning resource management and resource planning in order to attack September 2020 with the greatest possible impact. 
            September 2020 promises to be full of challenges and challenges for consulting and professional services companies. COVID-19, in addition to imposing the application and monitoring of new health security procedures, will require a new involvement of the teams from September onwards. In addition to a traditional return to work, this period is also an opportunity to optimize the performance of each structure, taking a step back over the last few months from a distance. Flexibility, visibility and connectivity are key words to prioritize in this post-COVID-19 back-to-work period.
Other articles you may be interested in