How is the coronavirus affecting the consulting industry?
The Covid-19 pandemic has disrupted the global economy like never before. From the travel industry to small enterprises all businesses are losing revenue as days of confinement increase. It is difficult to tell how much of a dent the Covid-19 has created for the consulting industry. According to research done by Consultancy.org, the global consulting industry could lose up to $30 billion in revenue in 2020.
Since the 2008 financial crisis, the consulting industry has seen exponential growth. The market value of consulting is estimated at $ 160 billion. The coronavirus has pushed the clients delaying their projects as well as canceling future plans. This has become a massive blow for the consulting industry as revenues are diminishing. 
Source Global Research collected data from various consulting firms across the globe to understand the impact of this pandemic on the consulting industry. The research concluded that Covid-19 could reduce the size of the consulting sector by 19%. This translates to a decrease in market value from $160 billion to $130 billion as of 2020.  
The global consulting markets, like the UK (largest consulting market), has seen stagnant growth. This is due to the UK's exit(Brexit) from the European Union. The growth decreased to 4% last year, making it the slowest growth progress since 2012.
Apart from the UK, Europe's consulting scene is also declining. The European market generates € 12 billion in revenues coming from Germany, Austria, and Switzerland combined. Germany's  contribution to the European consulting market in terms of revenue is 85% . Making Germany the second-largest market after the UK. This is due to the fact that the German market has an extensive automobile manufacturing base. Just like Britain, Germany has been walloped by the Covid-19 situation. The supply chain and  manufacturing industry are likely to see a massive dip in revenue and their market to shrink more than the average.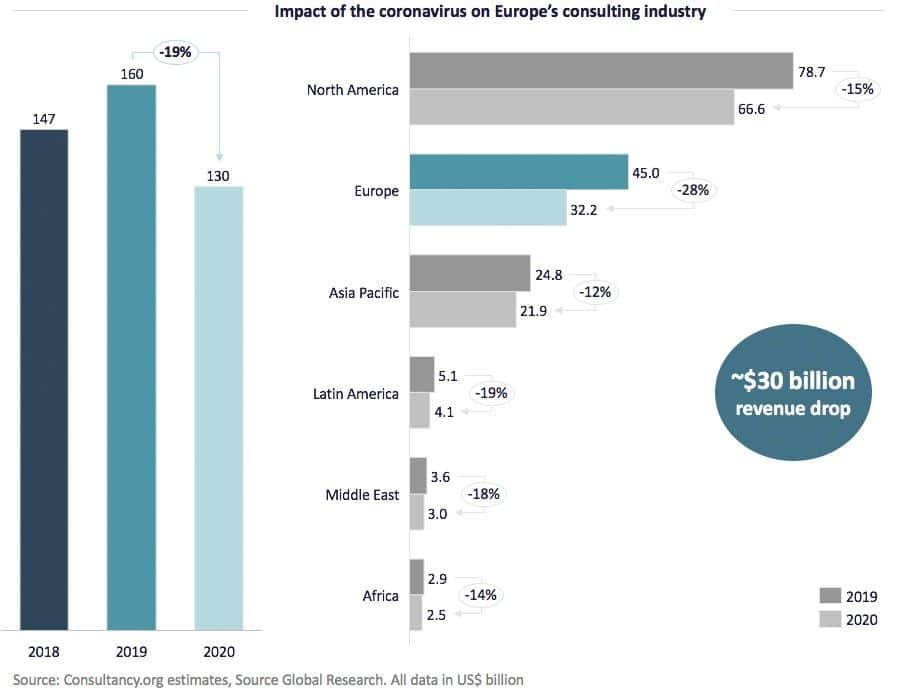 Opportunities for consultants:
The current situation has not only affected the consulting industry but also the consultants. Remote working for consultants is not new. Consulting is the first industry to pioneer remote working, as consultants need to work from different parts of the world for their projects. The current digitization trend and adoption of technologies has become key in helping businesses survive during these challenging times.
At the same time these technologies have made the job of consultants easier by bringing their clients and work closer to them.  Companies around the world are looking for answers on how to deal with this situation, and they are looking for consultants to get these answers. Firms must restructure and cut their costs to reduce losses, which is something consulting firms have been doing for a long time. Covid-19 has also created strains in human capital for businesses. HR consultants are in high demand to tackle these economic consequences.
With so much uncertainty due to COVID-19, there are two things that worry every business:
How do we support our customers?
How do we support our workers?
Consultants are working hard to help their clients identify solutions to complex problems and they have identified this new topic as an opportunity to add value during the crisis.
E-commerce is booming (food related), and firms are looking for supply chain consultants to help them reorganize their supply chain. Also, a large majority of consultants are working from home to serve their client's needs. This, in turn, creates a lot of work opportunities for consultants to tackle this pandemic situation.
The travel restrictions are impeding consulting firms to provide their service to clients. Most consultants usually spend 80% of their working lives away from home, as they travel across the globe to assist their clients with a variety of advisory matters.
The collapse of the economy has pushed the consulting sector to reinvent itself one more time. Consulting firms are looking for a way to provide their services and value remotely by creating virtual consulting platforms. The latest example of this comes from the Australian consultancy Bendelta, which has launched Reach. The new virtual arm of the firm provides its clients with a range of consulting and training offerings aimed at problem-solving, professional, and individual development and knowledge transfer.
This digitally centred approach can help consulting firms offer their services at a lower cost while eliminating travel expenses. They hope to attract clients looking to reduce spending while getting innovative solutions to solve complex business problems. This type of Asset Based Consulting also helps avoiding consultants to be exposed to the pandemic. With such virtual consulting platforms, consulting firms are able to deliver high-impact outcomes similar to physical consulting and training.
How is Europe's consulting market trying to recover?
Europe's consultancy market recovery may take more time than the US market. As the US is ahead of competition and technology adoption in their consulting business model. Consulting firms in the EU that provide services on their client's site will take the biggest hit. Changes related to work operations are experiencing disruption in Europe. Consulting firms providing services to clients in their own office will not be affected as much, and they can strategically overcome this with remote working.
Consulting firms may need to diversify the services they offer and adapt to this critical situation. Multi-faceted firms that provide a variety of services to their clients can quickly come out of this crisis. Converting sales and rebuilding their operation can be challenging. In Europe, the services sectors such as leisure, airlines, and hotel industries will have a hard time due to the restrictions imposed on travel. The services sector market is expected to decrease by 29% in Europe. Demand for consulting in these areas will also decline as clients in this sector are looking to save money.
Consulting services in healthcare is likely to decline, as resources are being continuously reallocated to tackle the Covid-19. Due to the lack of capacity and services available in healthcare, the companies might slowly turn to consultants for the solution in the long-run. Consultants working in the financial sector will be less impacted. Financial services such as banks are acting as a buffer to support the economy recovering. So, consultants specializing in financial assistance will be very much in demand.
Meanwhile, private equity firms should be affected in the short term, as valuations of firms are falling due to the market crash. Providing opportunities to buy companies in the stock market at a lower price. Firms may turn to consultants for advice and transactional support.
Many firms are learning how to manage their workforce remotely as self-isolation has peaked and remote work becomes the new normal. For most firms, this is the first time they have to deal with remote work. To make the transition easier, companies are asking tech consultants to create platforms and software to manage projects and teams remotely.
Executive search and staffing consultants have been impacted with recruitment activity dropping. The few recruitment still happening are performed remotely. To make it possible, staffing consultants are creating on-line assessment and psychometric tests to provide in-depth analysis to their clients about the candidate.
Some executive search consultants are also utilizing this time to build new talent pipelines. It is currently much easier for search consultants to speak with their potential future talents. Employers are also more flexible with their time and agree to interact with their future talents through video calls.
Strategies for businesses to reduce the impact of corona:
Make people safety and continuous engagement the priority:
It is recommended that firms have flexible work arrangements. If remote working is not possible, companies should provide protection to workers against infection.
Reshaping business strategy:
Companies are facing disruption in their daily operations and business revenue. It is recommended to inject short term cash inflows to avoid cash shortages. Closely monitor direct costs attached to your business and look for a way to contain the price fluctuations.
Firms need to work on different financial plans and establish multiple scenarios and modify the plans to stay agile. They will need to look at near-term capital raising, debt refinancing, and policy support from the government while considering the curtailing of non-essential expenses.
Communicate with stakeholders:
Communicate the situation with employees and clients to strike a balance between caution and business. Contact the suppliers to find alternative supply chain options. Let customers know the impact of your product or services in this situation.
Maximize the use of government support policies:
Firms should monitor the government support policies and national organizations that offer support. They may help with tax exemptions, social insurance, contribution reductions, and the support can be crucial if the crisis worsens.
Build resilience in preparation for a new normal:
After building new strategies based on the stress tests to tackle the crisis, firms need to execute the plans to sustain themselves. After the outbreak is controlled, firms need to look back at the problems faced concerning labor shortage, lack of infrastructure, and other issues. This will help businesses to create an effective contingency plan and respond to the crisis better in the future.
References:
https://www.consultancy.org/news/162/the-impact-of-the-coronavirus-on-the-global-consulting-industry
https://www.consultancy.eu/news/4003/europes-consulting-industry-hardest-hit-by-coronavirus